Cultural ancient capital, city of many festivals
"If you haven't been to Tainan you haven't really visited Taiwan." The first city in Taiwan, Tainan has a long history. It offers historic sites and old buildings, various carnival-like religious festivals traditional local culture, and wonderful international exhibition and competitions. Ancient capital Tainan has distinctive cultural characteristics, offering a wide variety of options for eating, drinking, playing and entertainment. You'll never be bored in Tainan, what are you waiting for?


The City in the Southern Taiwan with A Long History That Never Fades
Tainan was the first city to be developed in Taiwan. The charm of culture formed over more than 300 year exudes from the lanes and alleys, attracting visitors back time and again. Turn a corner and you will see the marks left behind by the people who went before and discover hidden stories. Visit the city gates and see how they developed and evolved; of course, historic sites, traditional buildings and the appearance of their surrounding areas play an important role in the culture of this ancient capital; through activation and reinvigoration of space, local art, industry and tourism culture have grown together; the old houses on the old streets reflect the past times as well as the living spaces and memories of ordinary people. Let these stories of the past and new soul accompany you as you search for the timeless charm of Tainan.

Ancient Castles and Canals Witness The Civilization Evolution of Taiwan Prefecture
Canal networks are highly associated with the flourishing and decaying of a city's civilization. Canals not only contribute to the development of Taiwan Prefecture, but also advance its whole society and economy. And many foreign firms at that time are trading companies that were invested by powerful western countries from 1858 to 1860. Back then, those firms existed prominently almost everywhere and now are important heritage sites providing Tainan with the very precious substance of its culture.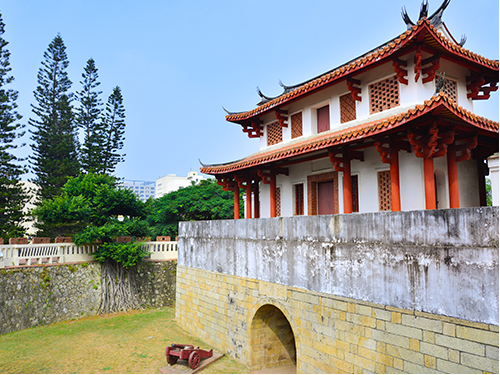 Great South Gate
The Great South Gate is also called Ningnan Gate (Peaceful South Gate). It stands in Nanmen Park on Nanmen Road in Zhongxi District. It was built in 1725 and is a city-listed historic site. Ningnan Gate has the only surviving outer wall in Taiwan; it was re-built as it originally was in 1977. The inner gate has the three characters for Ningnan Gate on it and the outer gate bears the characters for Great South Gate.

City gate stories, opening to the past and future
Built in the reign of the Yongzheng Emperor of Qing dynasty (1722-1735), Tainan Walled City was where the city of Tainan originated. 14 gates were built to protect the city. In the Japanese Colonial Period some of the gates were demolished when new roads were built; by 1917 the city walls were almost all gone; through later rescue and rectification efforts, four gates were saved and stand to this day: Duiyue Gate (duiyuemen), Great East Gate (dadongmen), Great South Gate(dananmen) and Little West Gate(xiaoximen).

Old Town VS Modern City: Now and Then of Old Houses
Tainan is an ancient city that has passed through the Dutch occupation, the Ming-zheng period, Qing Dynasty rule, and the Japanese Colonial Period over several centuries. Tainan's grace and diverse charms never fade, in fact the city gets better with age. With its many historic buildings, old houses and old streets, Tainan has attracted many artists and civic organizations to take up residence; combining art and cultural and creative industries, the shoots of new life have emerged from once desolate scenes.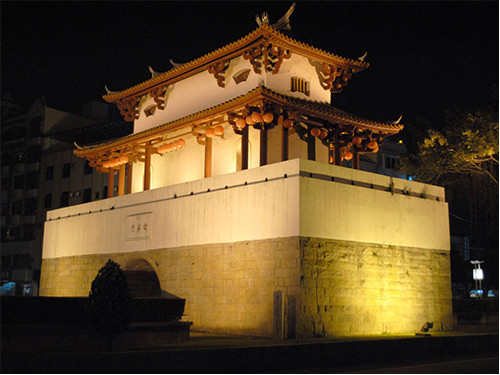 Great East Gate
The Great East Gate is also called Yingchun Gate (Welcoming Spring Gate); it was built in 1725 and is a city-listed historic site. It was built using slabs of granite. The arch on the west side bears the characters Yingchun Gate while the stone plaque on the east side has Donganmen (Eastern Peace Gate.)
Visit the marks of history in Taiwan's old capital
Tainan was established in 1620. It was the first walled city in Taiwan and was also the place of origin of the name "Taiwan." Tainan City is located south of the Tropic of Cancer; it has a sub-tropical monsoon climate, warm and with a small amount of rainfall though the year; Tainan enjoys more hours of sunshine per day that any other place in Taiwan, and has an average temperature of 24.1c. Today, Tainan has 34 districts; they were formerly under Tainan City and Tainan County under Tainan Provincial Government but came under Tainan City's jurisdiction when Tainan was made a special municipality in 2010.
A walk around Tainan is like steeping back in time. As the first city in Taiwan, it was, of course, the source of the development of people's livelihood; you can visit the first Confucius temple in Taiwan and marvel at the place where education in Taiwan originated; visit the various big temples and see traditional belief passed on to this day; take a trip to the ancient canal and witness the ebb and flow of civilization. In Tainan, turn a corner and you will encounter an ancient temple or historic site telling stories of the city from long ago.
Tainan is also famed for its many reasonably priced, and delicious must-try snacks; the city's food was once recommended by the renowned travel guide the Michelin Green Guide; fresh and tasty beef soup, rice cake with dried fish and braised pork on top or aromatic steamed rice cake etc., are unique staple foods and old-time snacks that are part of the foundation of Tainan's gastronomic culture and bear the historical memories of more than 300 years.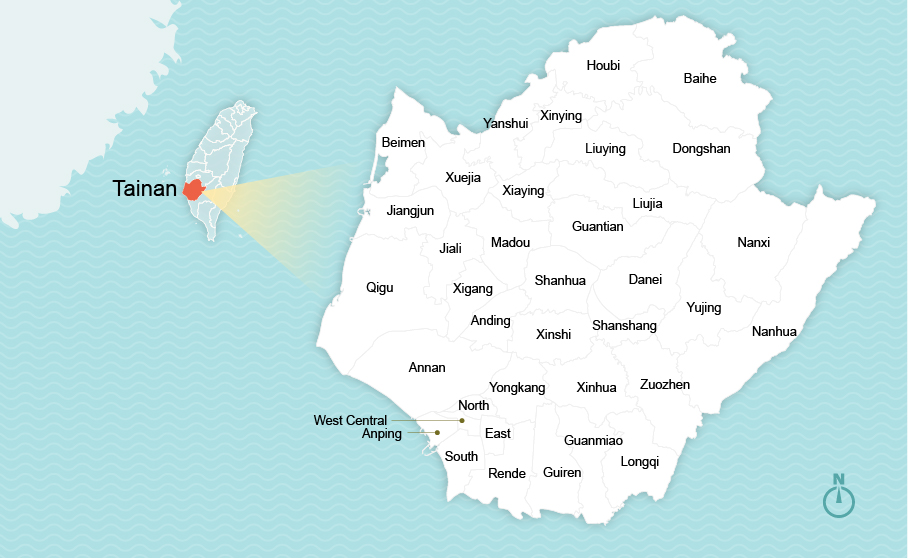 Taiwan lies on the western edge of the Pacific "rim of fire," and continuous tectonic movements have created majestic peaks, rolling hills and plains, basins, coastlines, and other natural landscapes. Taiwan's tropical, sub-tropical, and temperate climates provide clear differentiation between the different seasons. There are rare or endangered species of wildlife on the island. Among these are the land-locked salmon, Taiwan serow, Formosan rock monkey, Formosan black bear, blue magpie, Mikado pheasant, and Hsuehshan grass lizard.
The Taiwan government has established 9 national parks and 13 national scenic areas to preserve Taiwan's best natural ecological environment and cultural sites. There are various ways to discover the beauty of Taiwan. For example, trekking in the magnificence of the cliffs at Taroko Gorge; taking a ride on the Alishan Forest Railway and experiencing the breathtaking sunrise and sea of clouds; hiking up to the summit of Northeast Asia's highest peak, Yu Mountain (Yushan). You can also soak up the sun in Kending (Kenting), Asia's version of Hawaii; stand at the edge of Sun Moon Lake; wander through the East Rift Valley; or visit the offshore islands of Kinmen and Penghu. It's fun in capital letters as well as an awesome journey of natural discovery!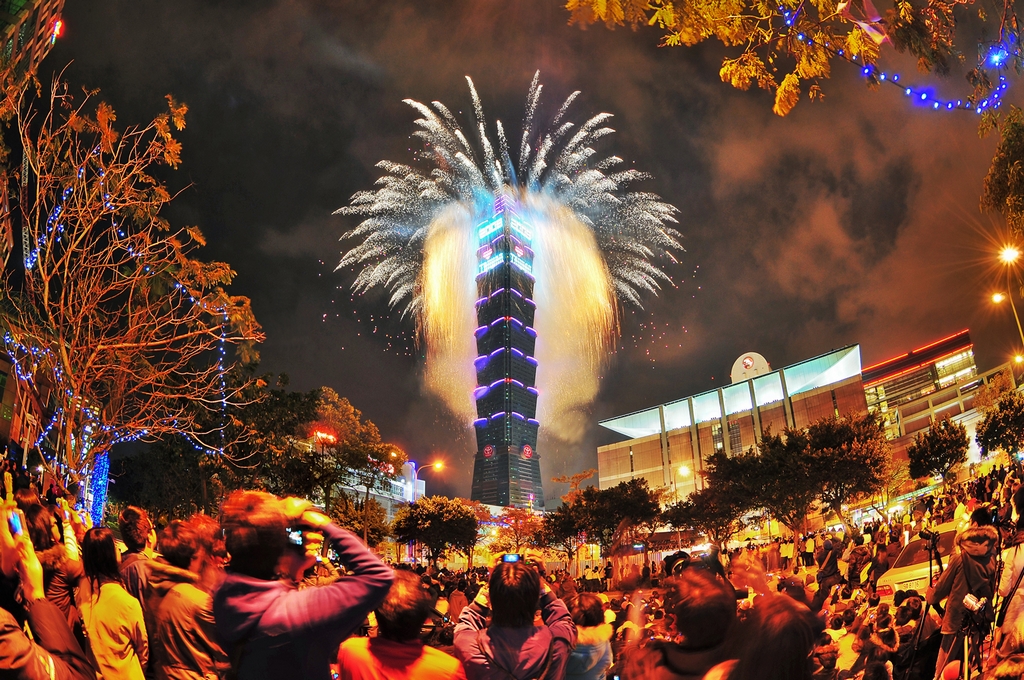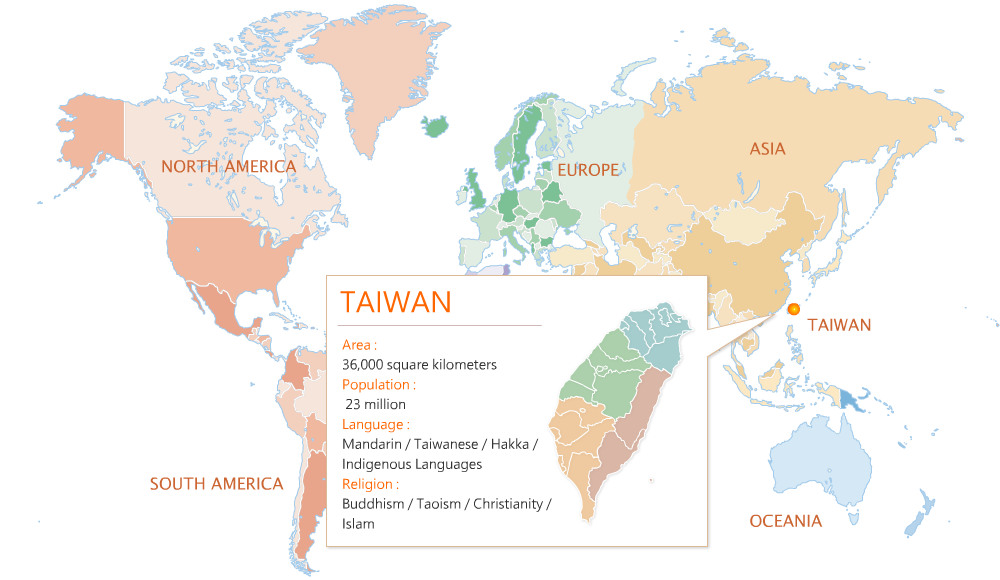 Located in the gourmet capital of Taiwan, HOTEL COZZI Ximen Tainan is walking distance from some of the city's most famous restaurants and food vendors as well as excellent shopping and sightseeing. Our central location is both easy to get to and find making getting to and from our facilities a breeze.
Like all HOTEL COZZIs, our facilities boast cutting edge technology and upscale furnishings with abundant natural light. Special to Ximen Tainan are our family friendly features and Cartoon Network branded experience. Come experience the luxury hotel of the future today at HOTEL COZZI Ximen Tainan!