THE 21ST CONFERENCE OF THE ASIA AND PACIFIC BAND DIRECTOR'S ASSOCIATION(APBDA2020)
APBDA2020 music festival Performance team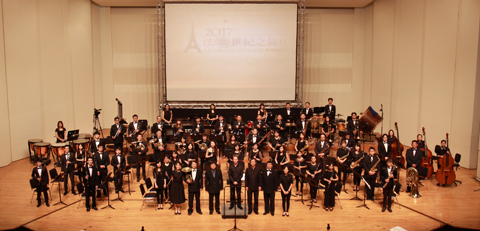 Founded in 2004, Tainan Symphonic Band ever hosted the 15th APBDA wind band festival in 2008 with Cultural Affairs Bureau of Tainan City Government and was highly valued by almost 100 music groups who were invited in this festival.
 Over the past 13 years, Tainan Symphonic Band has made its way toward the top performance arts group in the country. The symphonic band is led by Director-General of Cultural Affairs Bureau, Mr. Yeh, Tse-Shan officially with the aid of Chief Executive Officer, Mr. Wang, Hsiu-Tien. Under the instruction of artistic director Mr. Wu, Cheng-Che, resident conductor Mr. Lu, Shou-Jen and Mr. Huang, Yao-Te, Tainan Symphonic Band delivers popular and relaxing band music to the locals regularly.
 The members of Tainan Symphonic Band come from various professions, including medical doctors, school teachers, and even military service. The symphonic band tries its best to improve wind band music education and to promote wind band music. Many members teach in college at the same time and cultivate many famous musicians.
 On June 2015, the symphonic band was invited as a resident band in Xinhua Performance Hall of Tainan City. From June to August every year, Tainan Symphonic Band cooperates with Cultural Affairs Bureau of Tainan City Government to host Tainan City Wind Band Arts Festival and invite many famous groups of Taiwan. Until now, it has hosted for three times and held 59 concerts and 10 master lectures. It shows Tainan City's strong will to support wind band music.
 Tainan Symphonic Band also cooperated with many international masters and groups, such as Francois Boulangerc (the present conductor of L'orchestre de la Garde républicaine), Philippe Ferro (the ex-conductor of L'orchestre de la Garde républicaine), Inoue Asako (the Japanese famous saxophone player), Yiu-Kwong Chung (the composer and prof. of National Taiwan University of Arts), Liang-Chang Kuo (the Taiwanese famous conductor), Kaoru Tsuyuki (the Japanese famous bass player), Ching-Shyan Yen (the Taiwanese famous saxophone player). Tainan Symphonic Band also cooperate a joint concert with Hong Kong Youth Symphonic Band.
 To fight for the hosting right of 2020 APBDA, Tainan Symphonic Band held four theme events in 2017 Tainan City Wind Band Arts Festival, including held a huge marching band parade on May 27th, inviting a famous French composer François Rousselot who joined the Oscar-winning short film in 2014. This arts festival invited more than 49 groups, 30 events, and attracted almost 10,000 audiences.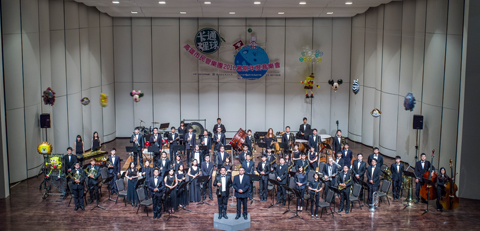 Kaohsiung Citizens Wind Band
The Kaohsiung Citizen Band was founded in 2005. The band leader / Mr. Pan Zhensheng, conductor / Ms. Huang Yucheng, the band is entirely from Kaohsiung citizens who love music. The members of the band are very different, so it is not easy to establish. Despite the hardships of life, each member still adheres to the insistence on music. Born under the idea is to play pleasant music.
Since the founding of the group, he has participated in invitational performances by concert organizers in various regions for many times each year. In the past eight years, there have been 25 performances. In 2011, he held a "Legend of Heroes" concert at the National Concert Hall in Taipei, showing that the group's daily solid Training and superb playing skills. In particular, the orchestra performs an annual concert at Kaohsiung Cultural Center to Detang every year, and enjoys Yale with citizens who love wind music.
This year, the group plans to host the 2013 Kaohsiung Wind Festival, inviting more than ten primary, secondary, and tertiary institutions in the southern region to jointly hold a result presentation. This is a way for students from various school orchestras to communicate with each other. A good opportunity to learn, in addition to enhancing the friendship between the various groups, can also communicate with each other to appreciate the skills of improving wind music. It also gives the new generation of wind instruments an opportunity to stand on the stage. And let Kaohsiung citizens enjoy the performance styles and training results of multiple schools at once. Observe each other and grow strong.
In response to the Kaohsiung City Government's promotion of "Cultural Kaohsiung, Civic Arts and Culture" to promote the music atmosphere of the rest of Kaohsiung in the Kaohsiung area, Zhizhi recruited people from all walks of life to participate in the "Kaohsiung Civic Band" and will focus on promoting music. , Actively participating in various related arts and cultural activities, so that my citizens of Kaohsiung can experience the beauty of wind music together and move towards a multicultural art city.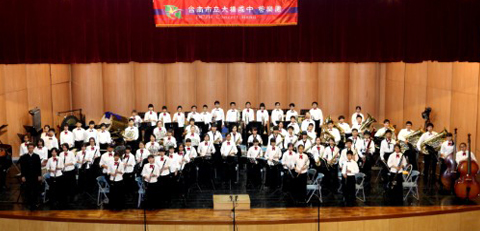 Da Ciao Junior High School Concert Band
Da Ciao Junior High School Concert Band (DCJH) which started in 2005, belongs to Bureau of Education of Tainan. It aims to promote education and provide students multiple learning environments. Since DCJH Concert Band began, its performance has been improving. It provides a channel to people who are interested in music and want to explore more about themselves. In addition, the members have good behavior and outstanding performance in their schoolwork. It's one of the features of DCJH.
 The concert band has won first prize for many times in the annual Student Music Competition of Tainan since 2007. They have also represented Tainan City to participate in the National Student Music Competition and gained the excellent award. Moreover, the concert band has won the distinguished honor award in the final of the Student Music Competition of Taiwan for three years in succession since 2015.
 In addition, the band has planned a series of concerts since 2007 to promote the level of playing the wind instruments in the area. Its playing is full of energy, enthusiasm, and creativity. The members present various styles of music and new pieces of work in every concert. In the past ten years, the concert band collaborated with other schools and organizations. Its performance is always commendable.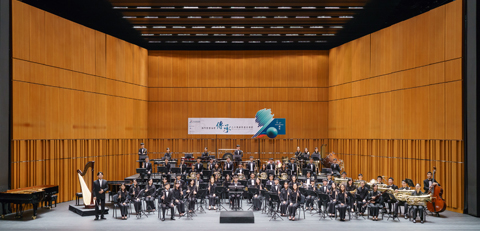 Macau Youth Symphonic Band (YSB)
The Macau Band Directors Association (MBDA) founded the Macau Youth Symphonic Band (YSB) in 1997. The band aims to provide opportunities to local young musicians to have proper music training. Its members include wind band players from local schools, higher education students, and enthusiasts. They play an active role to promote wind music in Macau.
 Soon after its establishment, Macau YSB participated in the Chiayi City International Band Festival in Taiwan. The band has also performed in the Macau Band Fair, and the Asia Pacific Band Festival held in different cities.
 In June 2004, the band performed "Hands Across the Sea", composed by John Philip Sousa, with the Eastman Wind Ensemble (USA) conducted by Mr. Mark Davis Scatterday.
 In August 2006, the band was very well received in the opening concert of the 14th Asia Pacific Band Festival held by MBDA.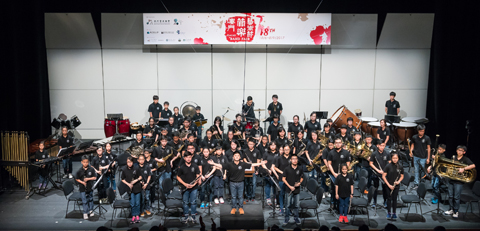 Macau Pui Ching Symphonic Band
Macau Pui Ching Symphonic Band was established in the winter of 1993 with the aim of nurturing students' interest in music, enriching their leisure time and educating time on the importance of team spirit.
 Initially, in the wake of its rapid development through the efforts of the school, the instructors and the students, the band, which consisted of more than 40 members, began to take part in a variety of public performances. In the years that followed, the Band won great awards repeatedly in competition targeted either at group or individual participants.
 In 1996 and 2002, recommended by the Macau Band Directors Association, the Band participated in the 9th and 12th conference of Asia and Pacific Band Directors Association in Hong Kong and Guangzhou and was highly credited with excellent performance. Since, the Band had participated in multiple APBDA and other international wind fairs and festivals.
 Today, Macau Pui Ching Symphonic Band had already nurtured a considerable number of musical talents in Macau, had undergone reconstruction and is now presenting itself with a new image of increased vitality. The Band, comprising over 90 members, has been upgraded in its standard through more systematic training.
 It is hoped that the Band can keep everyone of you who are present on this occasion better entertained, and also contribute more to the field of arts, both at home and abroad.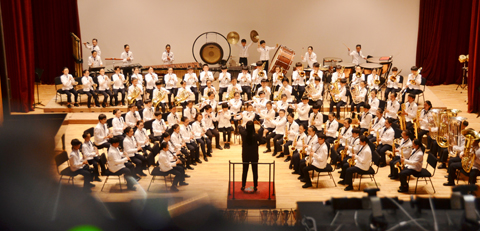 MasanSinwol Elementary School Band
The MasanSinwol Elementary School Band was founded in 2013, and now composed 102 members. We believe that the values we have learned in music will help us grow well, and having various cultural activities every year such as volunteer activities, musical concert. We all love music and truly believe in each other so that we have been able to make a happy harmony. We want to share 'the Fanfare of hope and joy' created by our talents and passions with many people at APBDA.
<A prize career>
2013 Founded a MasanSinwol Elementary School Band
2014 39th Korea Brass Band Contest Gold prize
   Changwon Elementary school Band Contest 1st prize
2015 40th Korea Brass Band Contest Gold prize
2016 41th Korea Brass Band Contest 1st prize
2017 42th Korea Brass Band Contest 1st prize
   15th Chuncheon National Band Contest 1st prize
Orchestre d'Harmonie de la Région Centre (OHRC)
The Orchestre d'Harmonie de la Région Centre (OHRC), created in 1982, has been supported by the « Centre » region since 2003, due to its high quality of interpretation,. Composed of 70 musicians, all voluntary, whether they are professional musicians, future professionals finishing their training or very proficient amateurs, the OHRC maintains a quasi-professional level, and acts as a showcase for the ongoing tradition and accomplishment of wind orchestras in the « Centre » region. Directed by Philippe Ferro since 1992, the orchestra has contributed to the discovery of lesser-known composers and works and to the enrichment of the repertoire by commissioning works by : Tôn Thât Tiêt, Marc Lys, Alain Louvier, Jean-Christophe Cholet, Philippe Geiss, Nicolas Bacri, Henri Dutilleux, Michel Merlet, Jacques Castérède, Ida Gotkovski, Désiré Dondeyne, Roger Boutry, Edith Canat de Chizy, Pascal Zavaro, Jean-Pascal Beintus, Richard Dubugnon and soon by Philippe Hersant. The OHRC won 1st international Prize at the Eolia competition in Strabourg in 2004 and the 2nd place in the Concert Division at Kerkrade WMC in 2005.